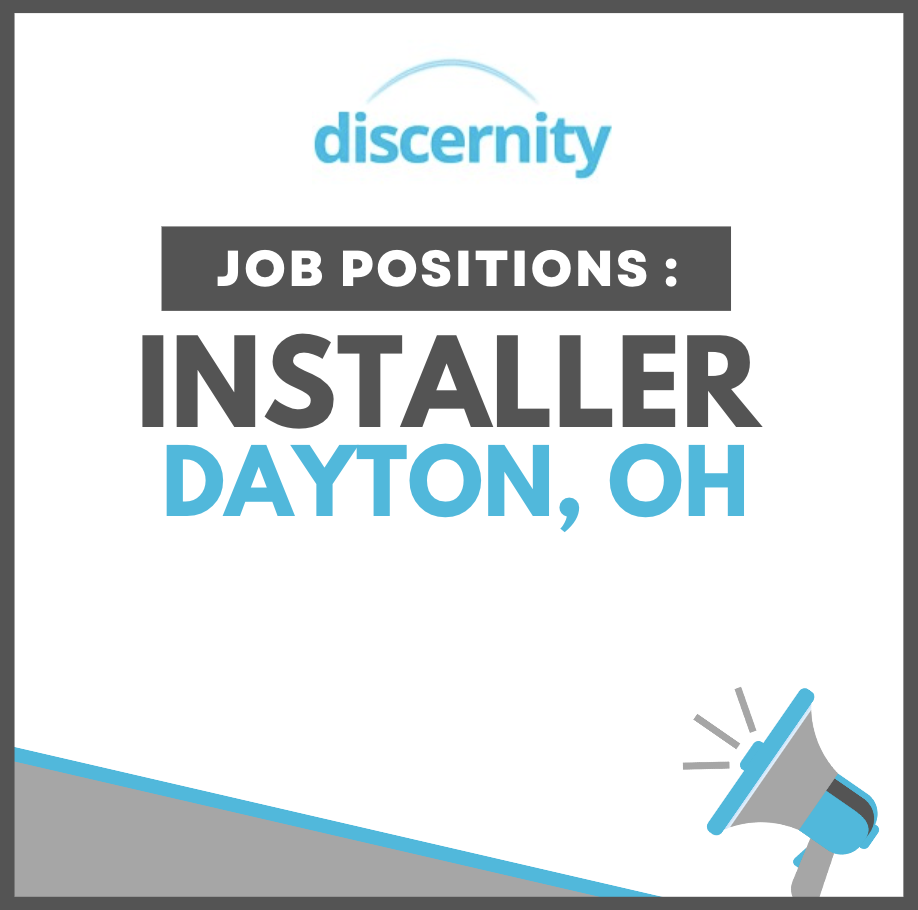 Discernity Continues To Grow | Now Hiring – Installer Job Dayton, OH
Are you a self-motivated problem solver who geeks out on all things tech? Ready to put your big brain to work at a company that values your expertise and is willing to train you for advancement? Discernity is a small, entrepreneurial, privately held company headquartered in Louisville, Kentucky. We're an award-winning provider of Telecommunications services, supplying hi-speed internet and DirecTV service to apartment communities, commercial buildings, restaurants and long-term care facilities across the US for nearly twenty years. Our customers want an alternative to the cable company for Internet access, and Discernity offers custom solutions. Our ideal candidate wants to grow—as a person, as a leader, and as a business—and produces stellar results.
Our Installer Will:
Be hands on: Installs, configures, and tests our cable, access points, and switches. Labels, routes, and terminates Cat5e/Cat6 cabling systems in new and existing environments. Installs pathways, pulling fiber optic cable, fusion splicing, fiber connector terminations and testing in the outside plant and building risers.
Be a People Person: Attends construction meetings and communicates with customers, customer representatives, contractors, and Discernity staff as necessary to install equipment and resolve discrepancies or issues.
Problem Solve: Performs equipment move, add, change tasks as required. Ensures that systems are installed properly and on time in accordance with Discernity's procedures and quality control standards.
Keep It Organized: Maintains accurate documentation for completed work and inventory control
Our Installer Is:
Educated: High school diploma or equivalent required. Microsoft Office user knowledge, including Outlook, Teams. OneNote, and others. Previous telecommunications experience preferred
Has a fire in 'em: Driven, self-motivated, and willing to work with minimal supervision while documenting and adhering to established technical procedures and best practices.
Is Full of Energy: A quick learner and multi-tasker who likes working in a fast-paced environment.
Lives and Breathes Technology: A tech expert who's always up on the latest and greatest innovations and takes pride in figuring things out for yourself.
Keeps Things on Track: Experience managing workload with a ticketing system, including service orders and account information gathering.
Plays Well with Others: Easy to approach and willing to provide exceptional, proactive customer service to every client.
Reaches New Heights: Must be able to climb ladders and perform work on roof tops according to OSHA regulations.
Is Driven (in more ways than one): Valid driver's license, good driving record, and reliable transportation to carry ladders, tools, and equipment.
Enjoys Being on the Road: Willing and able to travel up to 70% of the time; mostly day trips but some overnight travel is required.
Discernity Employees Enjoy:
An attractive salary
Health insurance plan including Health Savings Account matching program
Monthly stipend for cellular and data usage
Wellness benefits including up to $50/month towards costs of exercising
$50/month subsidy of DirecTV or DirecTV Stream