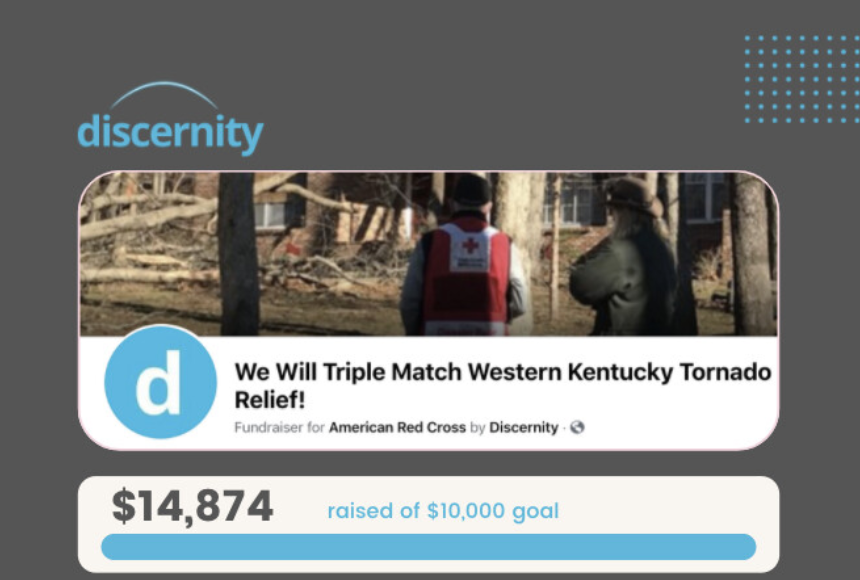 Though national news has mostly moved on from covering it, the after-effects of the natural disaster that devastated a significant amount of western Kentucky's cities are still being felt. 
Recovery has been slow, but, of course, much of what was lost, including the many lives of Kentucky residents, is irrecoverable. 
Though this was not the first time that western Kentucky has suffered tornado damage—more than a quarter of the tornadoes that hit Kentucky in the past fifteen years crossed this region—, this is certainly one of the most destructive tornadoes in recent memory. 
Naturally, the damage done by this storm has had an enormous financial impact on the region. Experts estimate that the damage could be over ten billion dollars across a dozen counties impacted by this tornado. Much of this damage could be considered ruinous to any given county.
As a Kentucky-based company, we here at Discernity mourn the damage that our fellow Kentuckians have suffered as a result of this natural disaster. Mayfield, Bremen, and all the areas affected are in our hearts. 
Discernity provides service to the Sunset Acres property in Mayfield. Fortunately, our client did not suffer any significant damage from the tornado. They lost power for a short while and everyone found lodging elsewhere, but we are happy to report every one was able to move back in.
Additionally, one of our associate's daughters worked in the Mayfield candle factory that was widely covered by news outlets.  The entire factory was demolished and eight people were killed. Again, we were fortunate she was not hurt, yet she and her family, and the rest of the community, are struggling greatly in the storm's aftermath. 
Though the aforementioned financial damage is indeed staggering, we firmly believe that any effort at relief helps, which is why we elected to set up a fundraiser through American Red Cross. We promised to match any donation up to $10,000, with our Discernity Leadership team promising to match that as well—meaning that any individual donation could be tripled. 
We had great results. Through the American Red Cross Fundraiser and the generous friends and connections within the Discernity network, we managed to exceed our goal of $10,000 and reached a total of $14,874, including our matching funds. 
This money went to helping those in Western Kentucky cover their basic needs during this trying time. We wish to thank those who contributed to this American Red Cross Fundraiser and continue to help those who still have a long road to recovery in Western Kentucky. 
Of course, there is still much more to be done to recover that which has not been irretrievably lost or irreparably destroyed. 
Businesses, families, and other community organizations and institutions are in need of help, and though insurance will help those who have it, and donations sustain others, continual donations and charity will be necessary to see that the survivors of this natural disaster can make it for the long haul. 
In addition to physical food-and-shelter relief, efforts to help the mental health of those affected and traumatized by the storm have also been employed. 
All of us at Discernity are committed to helping Kentucky residents for the long haul. For a list of ways to donate and volunteer to join in on the recovery efforts, take a look at the list compiled by WDRB here.