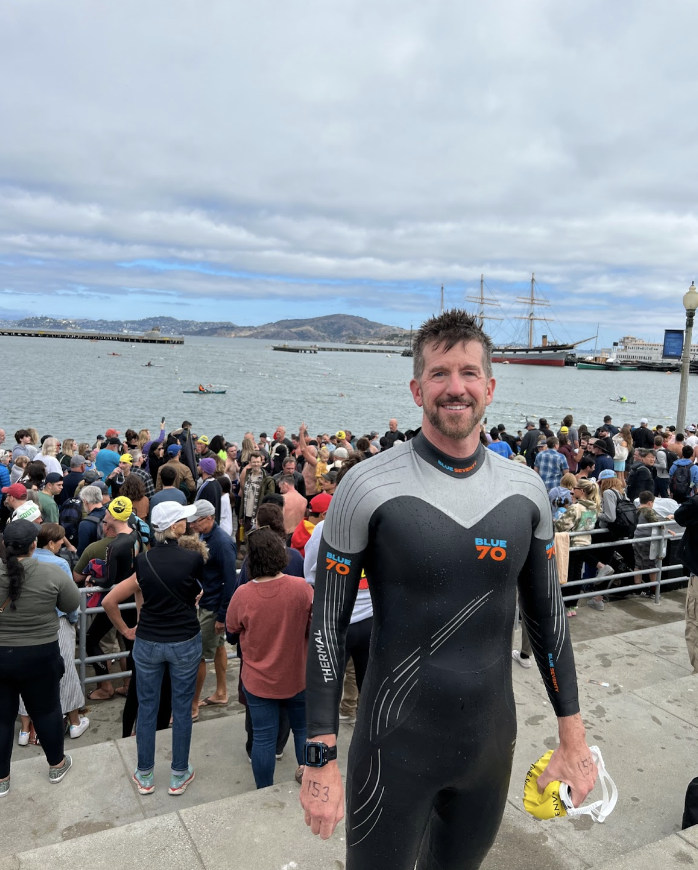 Discernity and the 2022 Alcatraz Sharkfest Swim
Though we have never been asked if we would swim over a mile in cold water for our customers, you can rest assure that we would answer yes. 
Discernity President and CEO Chris Chase recently participated in the 2022 Alcatraz Sharkfest Swim, an event he had trained two years for, which included strength training in a wetsuit, cold-water plunges, and lots of swimming. 500 participants swam 1.5 miles in 53-degree Fahrenheit water from Alcatraz to San Francisco. 
To get acclimated to the cold water, Chris went to Club Recover for cold-water immersion work in 33-degree Fahrenheit water. In addition, Chris used Baptist Milestone, where he has been a member for over a decade, where he swam with trainers, did CrossFit, and participated in Yoga classes. 
For Chris, this event was more than an opportunity to get a great workout in a historic landmark. Chris has had a lifelong fascination with the very specific feat of swimming from Alcatraz since childhood, when he saw the film Escape from Alcatraz, based on the true story of Alcatraz inmates, Frank Morris and siblings Charles and John Anglin. 
The film, with its depiction of treacherous conditions (such as sharks and cold water), captured his imagination, and served as the inspiration for his participation in Alcatraz Sharkfest. When, around fifteen years ago, he met someone who had participated in an Alcatraz-based triathlon, he realized that he could make his own "escape" from Alcatraz a reality. 
Though Chris' training prepared him well for the swim, there were plenty of surprises that laid in wait for him, demanding that he adapt in order to complete the event. 
For instance, even after two years of cold water immersion, he was still surprised by having to keep his face under the very cold water for extended periods of time. It made for a few minutes of hardship, but he adjusted. 
Sometimes, having to adapt does not mean adjusting to the unexpected, but having to experience the reality of something that was already expected, but only imagined. Having to fight the strong current is one such example of this. 
There are many parallels to draw between Chris Chase's experience at 2022 Alcatraz Sharkfest Swim and what we do here at Discernity. 
Our mentality is to never give up, stay persistent in achieving the goals we set for ourselves, and stay dedicated to our customers. 
We also strive to adapt to and plan for the unexpected. 
Just as Chris had to adapt to keeping his face under cold water for extended periods of time, Discernity—along with every other Internet provider across the world—had to adapt when a company named Netflix decided to offer in-home streaming of movies and TV. The result was an unforeseen and sustained spike in bandwidth usage across homes everywhere, slowing down Internet speeds due to the increase in traffic. 
Discernity had to adapt by upgrading networks and bandwidths so customers could still enjoy the high-speed Internet they had grown used to. Now that streaming is an everyday occurrence, we are proud to say that our networks can handle streaming with unparalleled Internet speed. 
Our "cold water plunge" to get used to more competitive conditions, as the world goes increasingly online, took the form of investing in WiFi 6 routers, which we stocked up on to not only offer stronger network solutions to our customers, but to anticipate any possible resource shortages, such as the recent chip shortage. 
Lastly, Discernity is all about community, specifically the apartment communities that we serve with our high-speed Internet solutions. When Chris returned from the Alcatraz Sharkfest, he was overwhelmed by the positive community response to achieving his goal, which has strengthened his understanding of the importance of community to Discernity's mission.